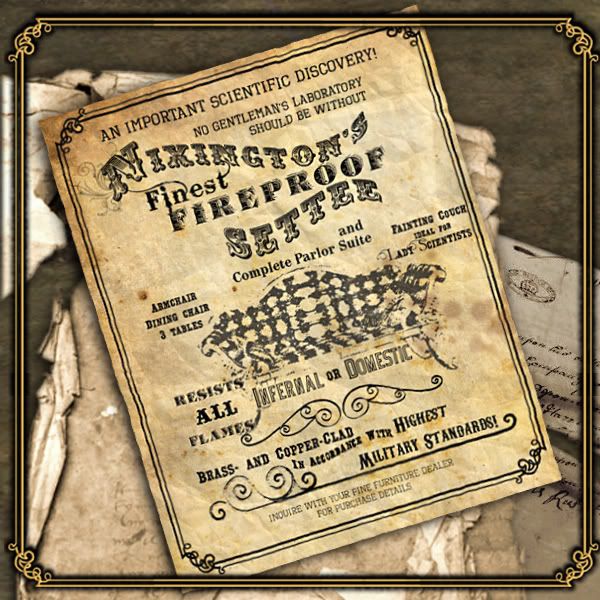 Yet another update that actually includes downloads! Wonders will never cease.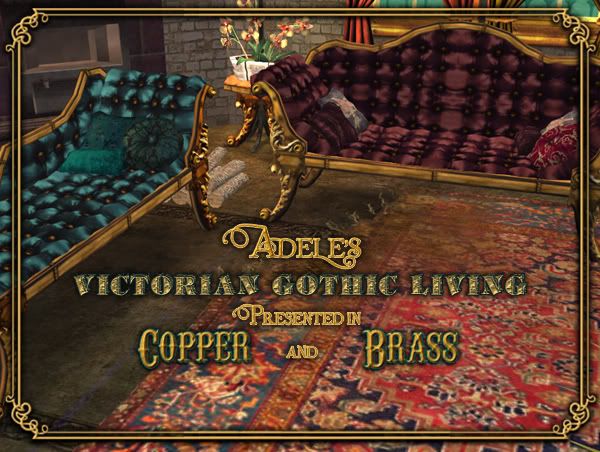 Steampunk! It's dress-up and DIY and roleplaying and geeking out like proper ladies and gentlemen, and it's something I'm too lazy to actually be involved with in RL, but the aesthetics are pretty much stellar, and you can't say that about many uber-geeky things.
For those unfamiliar, or only familiar with the dress-up aspects, steampunk is based on the premise that mechanical calculating machines designed by Charles Babbage beginning in the 1820s were, in fact, actually built and put into wide use, moving up the development of computer technology by about 150 years and combining it with the actual materials and technologies of the Victorian era.
Babbage's good friend, Ada Lovelace, expanded on his ideas and postulated that his figuring machines could also manipulate symbols, her theories having enough substance to make her the first computer programmer. So there, nerdboys!
There is plentiful information on both of them on Wikipedia, as well as information on steampunk. If you do a Google search for "goggles," you'll find a lot of steampunk stuff, too. Apparently, in a steam-powered world, everyone is wearing goggles everywhere, all the time.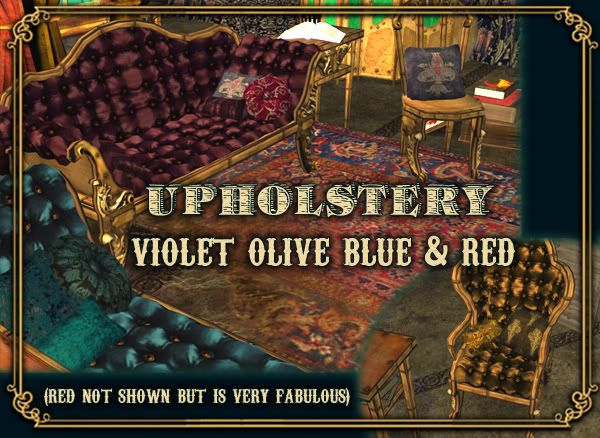 All of this stuff was my Garden of Shadows Secret Santa gift for Aelia, who seemed to like it very much. I ended up making probably too much stuff because I couldn't get my game to start and so I did my usual game-frustration thing, which is to defiantly and furiously recolor more stuff between attempts.
If there was a drinking game where you had to drink every time I complained about my game being broken, you would all be lying on the floor, giggling at nothing, hiccuping ominously.
I do believe my reasoning behind the metal cladding on the Adele set is almost plausible. As for the advertising, some of you may have already noticed that I tend to put "nix" into my downloads – if there's a nameplate on something, it's likely got a "nix" in the mix…but this is the first time I've been so blatant with my namedropping. I'm in yer game, makin my injokez.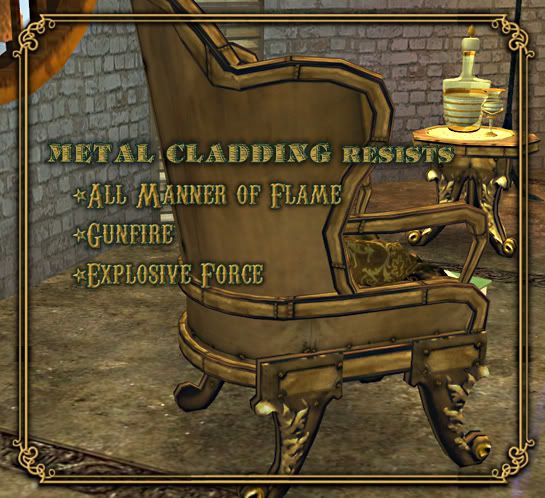 …and this is where my ability/desire to fake Victorianisms in text runs out. Or, runs out of steam. HAHAHA.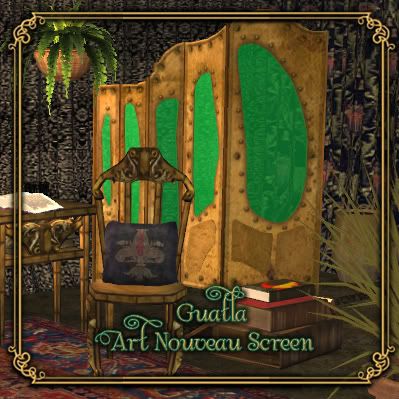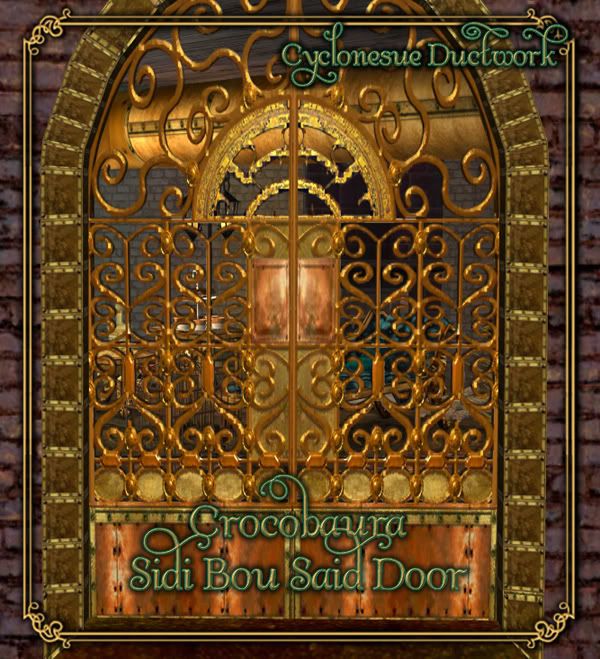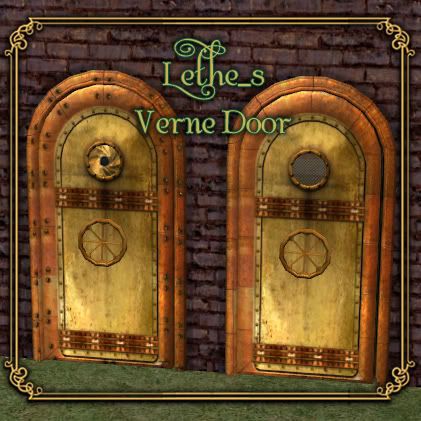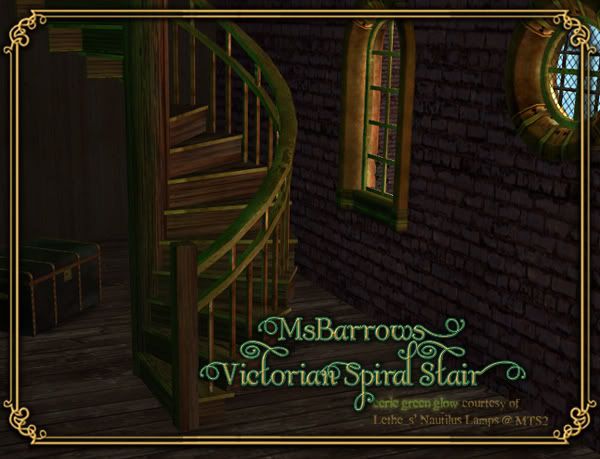 To tell the truth, I can't think of any good reason for covering one's windows and doors with brass and copper, but it looks pretty damn cool. Maybe that's reason enough. I managed to not get good pictures of the detail on the Olemantiker windows, but the…thing at the top, the wedge-thing, has a nice little gear doodad with a chunk of astrolabe behind it that looks very nice in game.
And I wasn't going to provide any history links because Google is not just my friend…but I can't help it. I'm just shareful and/or pushy. Here you'll find a nice overview of Babbages ideas and work.
Okey-doke. Since you've all been so patient, I suppose we can do the downloading part now.
Brassed recolors of Adele's Victorian Gothic Living: http://www.mediafire.com/file/xnmnvxemmwm/nixyrecolor_adeleVictorianGothic_Brassed.rar
Get Adele's Victorian Gothic meshes @ MTS2: http://www.modthesims2.com/download.php?t=299075
Brassed recolors of Olemantiker's Lord van den Bricks windows: http://www.mediafire.com/file/intjznmmmkt/nixy_olemantikerLordVDB_brassed.rar
Olemantiker's stuff used to be on Insimenator.net. Now that Insim has moved to .org, Olemantiker's things are gone. He has just uploaded a new build set at All4Sims forum, but he has still not uploaded his older sets anywhere, so far as I can tell. Therefore, I am providing the Lord van den Bricks meshes here: http://www.mediafire.com/file/tdjzil3gmjh/ole _LVDB build.rar
This archive includes the ENTIRE LVDB set, which includes multiple fences, two gates, and a big deco bell in addition to the windows. I love all of Olemantiker's sets, and I hope he reuploads them, either at All4Sims or at the "new" Insim.
Brassed recolor of Crocobaura's Sidi Bou Said door & arch: http://www.mediafire.com/file/myoediewooz/nixy_crocobauraSidiBouSaidDoor Arch_brassed.rar

Get Crocobaura's mesh @ MTS2: http://www.modthesims2.com/download.php?t=240107
Brassed recolor of Guatla's Art Nouveau screen: http://www.mediafire.com/file/d4xmnqoomty/nixy_guatlaArtNouveauScreen_brassed.rar
Get Guatla's mesh @ MTS2: http://www.modthesims2.com/download.php?t=312208
Brassed recolor of Lethe_s' Verne door: http://www.mediafire.com/file/ywoznab4jmz/nixy_lethesVerneBuild_brassed.rar
Get Lethe_s' mesh @ MTS2 (Alchemist Build Set): http://www.modthesims2.com/showpost.php?p=1662362&postcount=2

Brassed recolors of MAXIS Apartment Life mansard roof sections: http://www.mediafire.com/file/zz3mznzlm2j/nixy_maxisBohoRoof.rar
There are actually three recolors included: the brass-on-copper shown, a brass-on-brass, and plain copper. And, obviously, you need Apartment Life for these to do you any good.
Brassed recolors of Cyclonesue's circular fans, vents & ducts: http://www.mediafire.com/file/qmagmldtyn4/nixy_csueFansVentsDucts_brasscopper.rar
Get Cyclonesue's meshes @ TSR or the booty.
Brassed recolor of MsBarrows' Victorian Spiral Stair: http://www.mediafire.com/file/mwjyxwkv4mn/nixy_msB_victorianspiralstair_brassed.rar
This mesh requires Apartment Life. I will be posting recolors of Marvine's spiral stairs at some point, and they do NOT require Apartment Life, so I'll be sure to include a brassy one in that set.
Get MsBarrows' mesh @ TSR or the booty.
I very recently read that steampunk is totally done, completely over, etc., but I have some more stuff planned in this vein anyway, including a couple of functional meshes, though the idea of a mesh that does anything as opposed to just being a deco lump is extremely a bit intimidating.
Enjoy. And be sure to wear your goggles.
~~~~
WCIF list is available for this set.