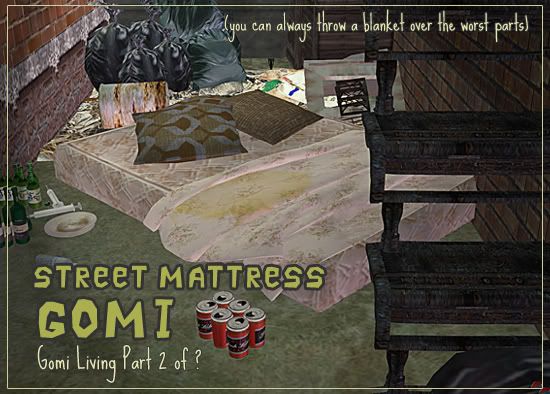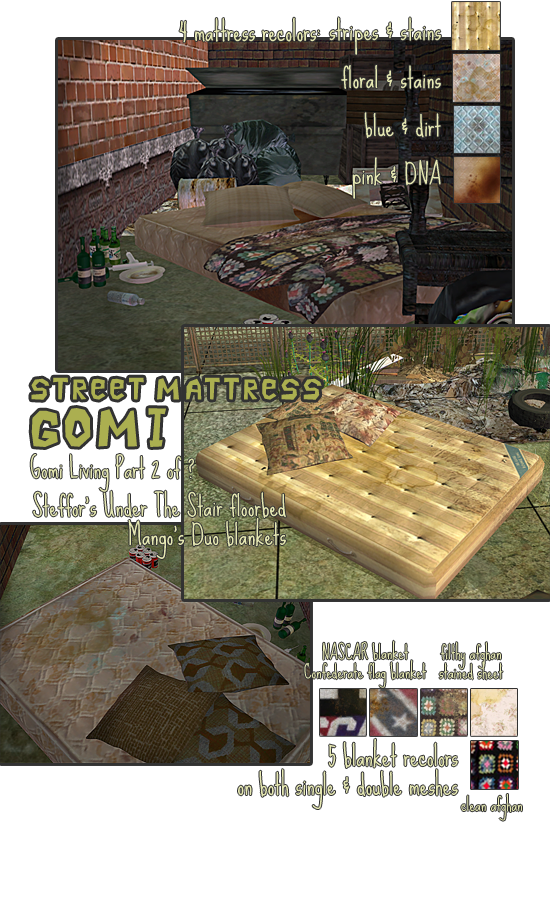 The blue mattress is not pictured because all of my screenshots were unsalvageable (bad lighting, bad photographer). However, it has a NASCAR pillow (Jeff Gordon, maybe?) as a tribute to the, er, national sport of the Confederacy. We moved to the South nearly nine years ago, and time just makes it clearer and clearer that we will never be actual Southerners – the inexplicability of rabid NASCAR fandom is just more proof.
There are an amazing number of street mattress photography communities online (well, amazing to me, who thought any would be enough), but due to the nature of street mattresses (slumped, soggy),a straightforward shot of a disgusting "mat" (as they are affectionately termed) is hard to come by. The striped mattress is about 3/4 photoskinned, and I think it looks the best. The other three are cobbled together by me from teeny bits of quilted fabric with various applied dirt and stains courtesy of talented brushmakers and the happy accidents that occurred in my use of these tools.
The bed is an odd height, and I didn't have anything 100% perfect in my collection of OMSPs. However, the Hacienda Kitchen "invisible" from Moune-Moune's Invisibles-was a pretty good fit.
RECOLORS: http://sharebee.com/1dc37db5 or
http://www.mediafire.com/?ozd2gmdnjxq
MESHES are NOT included:
Mango Duo bedroom: http://mangosims2.free.fr/meubles.htm, then Chambres/page 4. Scroll down to the Duo bed set and download the whole thing. There are two blanket meshes, which are all of this set that I've recolored.
Steffor's Under the Stair: can be found @ the booty
or @ TSR: http://www.thesimsresource.com/artists/steffor/downloads/sims2/SetID_513098/
WCIF for this set is available here.