(This set was originally posted at Garden of Shadows on November 3, which is the reason for the references to tardiness)


In October 2007, alkaloid uploaded a recolor at MTS2 that inspired me to actually make something myself. This was a papel picado version of a prayer flag mesh from Religiosims (you can see it in a couple of the images below) and I liked this so much that I wanted to assemble an entire Dia de los Muertos set. I quickly discovered that very few objects existed that could be used for this theme. I resolved to try recoloring objects, but soon realized that even creative recoloring/alpha usage could only get me so far. Frustrated by my lack of meshing know-how, I overcompensated with the recolors to such an extent that I have – I kid you not – at least 30 colors each of about 20 build sets, all lurid/vivid Mexican eye-scorchers. I had the means to build an an entire Mexican party-themed neighborhood (yay!) but was still without sugar skulls (boo!).
This year, thanks to Azaya's tutorial on mesh extraction, I have been able to figure out how to do a lot more with objects. My goal had been to get these files uploaded before Halloween, but I made things more complicated by deciding to make most of the meshes master/slave, which caused massive crashes/delays until I figured out what I was doing wrong. On the one hand, I am grateful for all the tutorials that currently exist. On the other hand, I wish Azaya would rewrite them all so they make sense and don't assume encyclopedic knowledge of .package structure.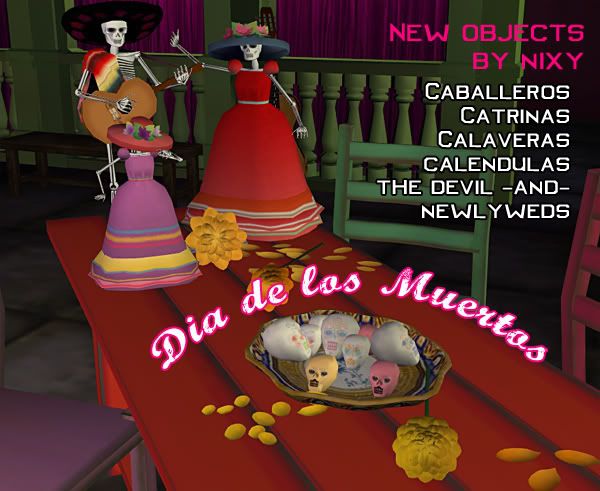 There's a ton more Dia de los Muertos/Mexican stuff I would like to have and may get around to making, but for now I can offer you:
Catrina-, Caballero- and Devil-On-A-Stick in two sizes. Catrinas and Mariachis in two sizes. A seated skeleton with a crown. Two sizes of novios – one about the size to sit on top of a cake, the other larger. Three sugar skulls. Three different calendulas (marigolds), each in two positions. There are two general skeleton types: detailed and rudimentary. I like detail, but it brings the polycount up and it's not really very accurate in terms of what most DDLM skeletons look like. The _____-On-A-Stick and crowned skeletons are more rudimentary and look more like the average DDLM skeleton you'd see in a parade or on an altar. The polycounts on the detailed skeletons are possibly terrifying, depending on your system. I've given the counts for everything in the item description you'll see in the catalog. Think of this as my special surprise to you, and enjoy mashing the delete button in horror when you find out just how high those counts are!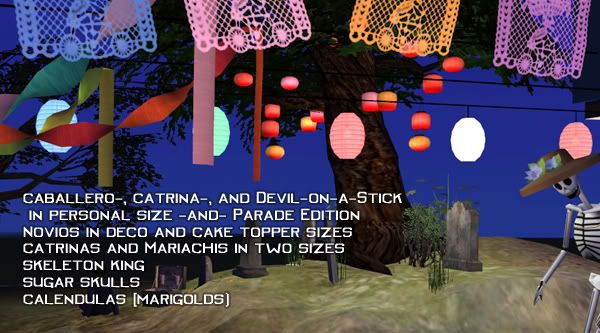 Download DDLM files HERE: http://www.mediafire.com/file/yjyggmzjydz/nixy_HappyDDLM_CORRECTFILES.rar
or HERE: http://sharebee.com/93074a58
PLEASE NOTE: If you downloaded these from Garden of Shadows and the slave meshes don't show the recolors and/or the files crash your game, PLEASE redownload them. I orginally uploaded the wrong (broken) set which had disastrous master/slave problems. The files available now are fixed and will not crash your game. The revised meshes have been out for a month now with no reported problems, and they are working fine in my game.
ALSO NOTE: I do note in the catalog descriptions that I used some parts of a skeleton model found online. What I forgot to mention in my excitement to post these is that I also used a sombrero mesh made by TKAngie for the Daydreams forum as a reference for my Caballero sombrero. I shrank it and reduced its polys and altered the brim to be double-layered, but there are definitely faces and vertices left over from TKAngie's hat in my mesh. No one has said anything, but I feel guilty for not acknowledging this originally.
MOAR PIX because this scene was fun to set up. The majority of the stuff in the pictures was recolored by me and will likely be uploaded eventually.

For other items in these screenshots, check the WCIF for this set.